parablesblog: Laying Down the Law - The Road Less Traveled
How will we know them when we see them? What obstacles do we have to overcome in order that we will see those in need, but also understand that our role as Christians goes far deeper than simply writing a check or saying a prayer?
Our role as Christians must include a demonstration of the love that Jesus taught through his relationships with others and his advocacy for the disenfranchised of his time. We are all on Jericho roads. Our part in the seeing the person laying in the road should be part of our own renewal and should be as integral to our Christian life as going to church on Sunday. But sometimes getting involved in such a way that we see the person laying in the road makes our neat Christian church communities complicated and messy — so it feels easier not to. The parable of the Good Samaritan is a story that challenges our non-involvement.
One of the most common refrains I hear as I build relationships in town is an expression of gratitude toward the local church for displaying rainbow flags in solidarity with our LGBTQ neighbors, but that refrain is often spoken alongside a general distrust of the capital C church because the capital C church has stepped over so many while they lie in the road.
We here in this congregation of this small local church are struggling faithfully to serve out our mission of making disciples of Jesus Christ for the transformation of the world. But our small local church, whether we realize it or not, whether we like it or not, is a projection of the capital C church, and as such, we have to do a better job of not stepping over the people laying in the road. Anna could have easily joined with the rest of those people on her mission trip. She could have walked past those people laying on their mats and gone to sit in a circle, sing songs and talk about how important Jesus is in her life.
That was, after all, what they set out to do. They were yearning to be seen. They were yearning to be recognized, and to receive more than a story. Placing her hands on a small child whose limbs had atrophied from malnutrition and lack of care, she found purpose and gave a small child a sense of not what Jesus said , but what Jesus did!
And it started by actually seeing them, It started by stopping and not stepping over them. The Jericho road will look different for each of us.
It could mean working with those experiencing poverty, dealing with the broken relationships in our own homes and families, combating loneliness, fighting injustice, standing up for the oppressed, being inclusive. Whatever our Jericho road looks like, it will be difficult, costly and painful but it will be well worth the journey. Let our mission be known: that we are disciples of Jesus Christ.
Let it be known to those who suffer that we see them, that we hear them, that we empathize with them, and that we will use our own strength, our own abilities — our own lives — to see Imago Dei, the image of God, in their faces. And we will never step over them again. Language can often be a tricky thing, and in this particular context, some words have multiple meanings or nuance that can make them mean something far different than what our somewhat limited English language might ascribe to them.
Christ is telling us that in order to be his disciple, he must take priority in your life. There is no back seat for Jesus.
Road Less Traveled.
Road Less Traveled.
Road Less Traveled;
Month: July 2014.
Email Subscription.
Find Us (Frenchtown).
I want you to think for a moment about choices that you have to make in your life. We all have to make choices. Should I start smoking? Choices come in all shapes and sizes in our life, with some having a significant impact in our lives and others are only a momentary thing. As Christians, when we think about carrying our cross, the first thing that typically comes to mind is Jesus carrying his cross to his death. The cross means suffering and pain, it has to do with the forgiveness of sins. The people hearing him — the large crowds — had a different perspective because they had not witnessed Jesus carrying his cross… yet.
Carrying your cross cannot only be found in the suffering and sacrifice.
JAMES, a Son of Thunder
But is this really a cost, or is it a choice? Now choose life—so that you and your descendants will live—by loving the Lord your God, by obeying his voice, and by clinging to him.
You may also like....
The Grasp (T.O.A.D. Book 6).
The Road Less Travelled.
Is it really a cost? Or is it a choice? What you sacrifice. What you deny. When our faith is viewed as a cost, we lose sight of the fact that life itself is costly, not just faith. As I said, our lives are full of choices. Our lives are spent counting and weighing the costs. The cross is no different than any of the other million choices we make in our lives. It is indicative of what life is.
To carry your cross is to carry the choices and burdens and realities of a life in which you have made a certain commitment — a commitment to a way of life that is all about bringing the Kin-dom of God here and now. How different would our perspective be if when we say that we must carry our cross, we focused instead on that as a way of choosing life over death? In fact, if we read Luke in this perspective, then carrying our cross might result in life for another.
So, carrying your cross is a choice and ironically, it is a choice for life and not death. But here is the challenge. We tend toward saying the cross is a choice for life because it leads to resurrection.
The Road Less Traveled – Galatians 4:21-5:1
And no. Yes, this is what God has done -- undone death for the sake of life forever. But no, if that reality has no bearing on your present. Just because we are privy to a post-resurrection perspective of the cross, does not mean we should depart from what it meant to those first believers. The words speak to the choice of life that we make in the midst of pain and suffering. In the midst of pain, I choose love. In the midst of pain, sorrow falling down like rain.
The Training Table: Don't Make the Road Less Traveled "Highway 101"!
I await the sun again. I choose love. In the midst of war, I choose peace. In the midst of war, hate and anger keeping score. I will seek the good once more. I choose peace. When my world falls down, I will rise. I will climb to holy ground. I will rise. In the midst of pain, sorrow falling down like rain, I await the sun again, I choose love. We take up our cross. It is our choice because we find salvation for ourselves. But we choose to take up our cross because life is found in doing so for ourselves and for others.
So there we find that making the choice to take up our cross is much bigger than what we choose to do as individuals; there is a communal aspect of this choice that brings life. The church bears a message of good news for all people, the gospel of Jesus Christ. Our choice, as a church, must be to carry our cross because this good news is for everyone. As individuals, we have been given new life.
We can identify ourselves as Christians and therefore, be bearers of this new life. The church must choose therefore, to take up its cross, for that is how the church can bring new life. The hard truth is that the church must be called to address social issues as a community of faith. As a community of faith, when we respond to the social issues of the world, we are offering life.
How can we remain silent? As a community of disciples then, we must recognize that the mission of the church embodies a willingness to take a stand on behalf of what it perceives to be right and just. The church must recognize its responsibility to challenge the status quo that made the road unsafe to begin with. So this gives, I believe, new light to the choices that we make and how we prioritize our lives both as individuals, and as a church.
Road Less Traveled
So we are challenged to take up our cross, not as a cost of discipleship, but as a choice — a decision for discipleship. We can look to the Bible as our moral authority, that which guides us in our faith life leading us to recognize that self-giving love that is central to the Christian life, that brings new life. Our lives of faith — as a community of faith — is a decision for life, for ours and for our community.
The Galatian Road: A Road Less Traveled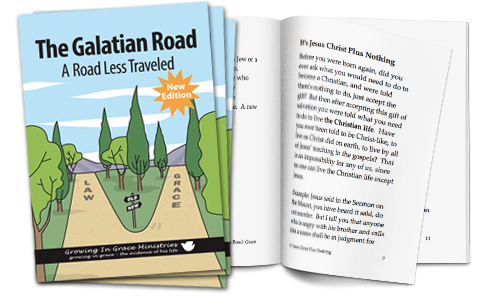 The Galatian Road: A Road Less Traveled
The Galatian Road: A Road Less Traveled
The Galatian Road: A Road Less Traveled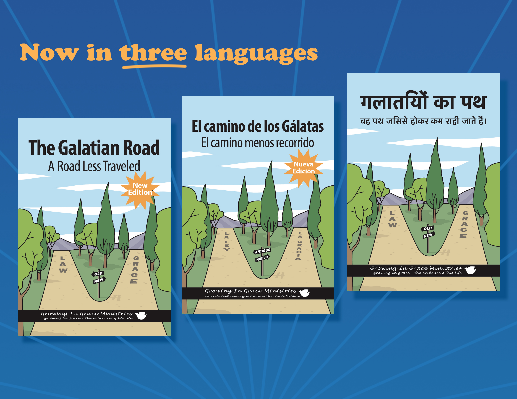 The Galatian Road: A Road Less Traveled
The Galatian Road: A Road Less Traveled
---
Related The Galatian Road: A Road Less Traveled
---
---
Copyright 2019 - All Right Reserved
---